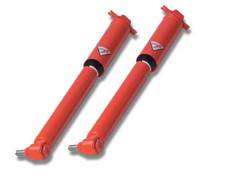 Most people understand that making sure that a vehicle's shocks and struts are in working order is not only a wise financial decision with regards to the useful life of a vehicle, but that it is also an important safety decision. Vehicles with top-notch shocks, springs and suspension systems will not only handle better, but they will also stop more dependably and generally provide a safer ride for those who spend any time inside of those automobiles. People who have correctly identified this priority should make sure that their concern goes beyond their own cars, trucks or SUV's.
Below you will find a brief overview of common situations in which parents should not be afraid to ask about the shocks and suspension systems on certain vehicles that will be carrying their children. You will also find information regarding how anyone whose shocks or struts need replacement can get in touch with experienced professionals who can help them find the right fit for their vehicles from world-renowned brand names such as Bilstein, KONI, Tokico and Eibach.
Babysitter Vehicles
Parents are like anyone else in that they benefit from getting out from time to time. As a result, parents may hire a babysitter whom they trust to take proper care of their children while they are out. However, parents should make sure to pay attention to the type of vehicle that a babysitter drives in order to make sure that it's safe, and that obviously includes asking about the shocks or suspension. Those vehicles that are not safe should be fitted with Bilstein, KONI, Tokico and Eibach as soon as possible.
Carpooling Partners
Many parents will work with other parents to work out some sort of carpooling arrangement so that the children can get to and from school and all of their extracurricular activities. However, not every parent puts the same priority on performance and safety with regards to their vehicles as every other parent. Anyone who notices a potential problem should not hesitate to ask that other parent about the condition of their vehicle in as polite a way as possible so that they can be sure that their child is being transported safely.
Buses
Many parents allow their children to take the bus to and from school every day, but unfortunately many of these vehicles are not maintained as well as they should be. Any parent who notices a problem with the performance of a school bus should not hesitate to call the busing company to complain. Brands offered by Bilstein, KONI, Tokico and Eibach can be used to help improve a bus' safety.
Parents should never hesitate to protect their children, and that includes their travel. If you need to make sure that your vehicle is safe with products from Bilstein, KONI, Tokico and Eibach , seek the help of automotive professionals who can help you find the right fit. Contact Shox.com today to learn more.