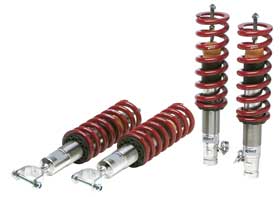 When people realize that they need to replace their shocks, springs or overall suspension systems, they generally are not sure of where to go for help dealing with this need. That's because most people are not automotive professionals and they quite honestly do not look forward to handling this type of a task. It can be stressful for anyone who is unfamiliar with this process because they may be unfamiliar with not only where to start, but what the process involves and what it could cost.
Fortunately, there are professionals available who can help automobile owners resolve their need for shocks and suspensions with products from world-renowned manufacturers such as Bilstein, KONI , Tokico and Eibach. Below you will find a brief overview of how these professionals will walk through this process with automobile owners so that they can rest assured that they will not have to deal with this situation again anytime soon. You will also find information regarding how you can contact automotive professionals who can help you put this sudden need in the past.
Learning About Your Vehicle
One of the first steps that automotive professionals who deal in top-quality products provided by Bilstein, KONI, Tokico and Eibach will take is to learn as much about the automobile as possible. Every different make and model may require different types of specific products, and it's critical that the best fit be found for the existing specifications. Otherwise, the shocks, springs or suspension systems overall may not perform to their capabilities and the vehicle owner may not be satisfied.
Learning About Your Driving Habits
Bilstein, KONI, Tokico and Eibach products each offer distinct characteristics that provide different benefits for different drivers. Therefore, automotive professionals who handle these products will want to learn more about a person's driving habits before recommending particular models. Some people tend to take their vehicles off road and tackle difficult terrain, while others are commuters who need to be able to driver smoothly for long periods of time on concrete.
Learning About Your Expectations
People who have installed Bilstein, KONI, Tokico and Eibach products on their vehicles tend to make sure that they never sacrifice long-term quality and a high level of performance for a small amount of short-term savings. Therefore, automotive professionals who handle these products will make sure to understand the driver's expectations before recommending a particular line or model for them. Doing so will simply allow everyone involved in the process to remain on the same page and it will minimize if not eliminate the possibility of surprises.
Overall, finding shocks, springs, struts or other related products does not have to be stressful or even a negative experience if it's done right. If you are ready to put this need in the past for a long period of time, you need to seek the help of automotive professionals who understand how to fit the needs of drivers. Contact Shox.com today to get this process started.