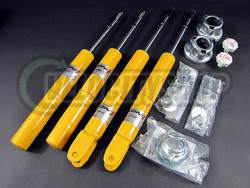 If you are in a position where you need to look at replacing your shocks, springs or suspension system, then you are likely looking around online simply trying to define a starting point. Most people are not necessarily well-versed when it comes to these parts of vehicles, and most consumers are not familiar with manufacturers that have earned a brand that is renowned across the globe by people who spend significant amounts of time in the automotive industry.
That's why the team at Shox.com would like to spend a bit of time introducing you to four of the most respected and trusted manufacturers that you will find anywhere in the world. These are also brands that you will have access to if you contact our team in your search for new shocks, springs or suspension systems.
Bilstein
Bilstein was started in Germany in 1873, and for decades Bilstein was known as AUBI, which was an abbreviation or August Bilstein, the company founder. For the first 50 years of its existence, AUBI was in the business of providing metal window fittings. In 1928, Bilstein began to move into the automotive world by offering products such as the first usable side jack. In 1954, Bilstein began to produce the first non-conventional telescopic shocks. Over time, the company evolved to where it now offers shocks based on gas pressure technology.
KONI
KONI got its start in 1857 in Oud Beijerland in the Netherlands with the manufacturing of horse harnesses and upholstery. KONI got into the automotive market in 1918 and moved into the world of adjustable telescopic shock absorbers in 1945. Given the nature and quality of its products, KONI now operates with distributors in more than 90 countries across the globe, and it is recognized for its ability to scope its products to the specific needs of particular types of vehicles.
Eibach
Eibach is known all over the world as one of the industry leaders in the manufacture of springs, and they have been known for this capability for more than 60 years now. The company manufactures springs that are intended to withstand the rigors of Le Mans or the Daytona Speedway, but people who drive street vehicles can put them to use so that they can attack corners and handle almost any driving challenge effectively.
Tokico
Tokico has been doing what it does – manufacturing some of the most respected and trusted shock absorbers in the world – for more than 65 years. Tokico has long been known as a company that was not afraid to innovate, as it came up with the twin-tube low-pressure gas shock absorber in the 1970's and it has continued to modernize and modify that original plan since then. Tokico has been working with automobile manufacturers on several continents for decades.
As can be seen, these four brands mentioned above will serve every consumer quite well. If you're ready to learn more about how these brands can work for you, contact the professionals at Shox today.