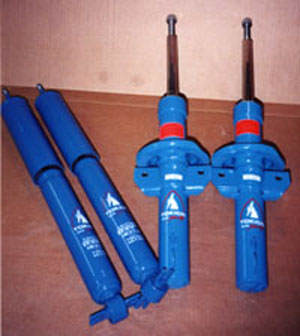 We are about to come across the time of year when people all over the United States decide to embark on long road trips. While it's always exciting to plan these types of excursions, it's also a process that involves many different details that must be accounted for in order for any trip to go as well as possible. One of these steps should involve making sure that the vehicle that's going to be used is in proper condition for a long drive. While oil changes, tune-ups and perhaps a change in the tires are all good steps to take, there are often aspects of a vehicle that are overlooked.
Most specifically, people tend to overlook the shocks, springs and overall suspension systems that can and often do make all the difference between a smooth and safe ride and a ride that is uncomfortable, unpredictable and in some cases even dangerous. Below you will find a brief overview of how manufacturers such as Bilstein, KONI, Tokico and Eibach provide products that can handle every different type of road that someone could encounter. You will also find information regarding where you can start if you're ready to eliminate this concern.
Bumpy Urban Roads
One of the biggest tests of shocks, springs and suspension systems overall occurs when motorists drive through large cities. That's because these cities tend to have roads within their limits that are punished severely from heavy use. As a result, motorists will encounter potholes and other problems. Bilstein, KONI, Tokico and Eibach all have products that can help a vehicle move past these bumps and challenges seamlessly.
Windy Mountain Roads
Many people simply do not realize the fact that shocks and suspension systems not only make a ride smoother, but they also vastly improve a vehicle's handling in areas that are sometimes quite tight. Bilstein, KONI, Tokico and Eibach all make products that will help vehicles move around these curves safely and with the maximum amount of tire surface area on the roads.
Slippery Concrete
When people drive across the country in the spring, the chances are somewhat high that they're going to at least encounter some type of inclement weather. Given the benefits in traction that are provided by manufacturers such as Bilstein, KONI, Tokico and Eibach, people should feel safer knowing that their vehicles will be maximizing the surface area of the tires that will be on the roads at any given time. This will make everything from stopping to handling much easier and safer.
More people need to understand the importance of shocks, springs and suspensions on their vehicles so that they can improve the performance and safety of those cars, trucks and SUV's. If you are ready to put this component of your vehicle to rest for good, seek the help of automotive experts who have been finding the right fit for automobile owners for many years. Contact Shox today to get this process started.