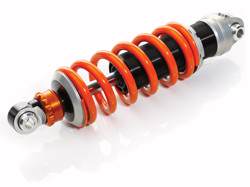 As we move into the winter months, all of us around the United States are beginning to encounter different driving environments that are changing because of the weather conditions that tend to come around at this time of the year. Whether we live in warm or cold climates, we all need to be ready to deal with roads that will be slippery, darkness that sets in earlier and unpredictable weather that can make any drive a challenge. In short, we need to be ready for anything, and that starts with our vehicles.
One of the best but most overlooked ways to provide measures of safety and comfort for anyone driving or riding in a vehicle during these winter months is to make sure that the suspension systems, shocks, springs and related parts are all ready to perform. Below you'll find a brief overview as to how products from renowned companies such as Bilstein, KONI, Tokico and Eibach can help motorists attain these goals. You'll also find information regarding how you can contact a team of professionals who will be able to provide you with the best fit for your specific make and model.
Better Traction
One of the most common problems for drivers when it comes to slippery roads involves traction, or at least a lack thereof. When we slip and slide all over the road, it's usually because our tires are not spending enough time in direct contact with the pavement. Suspension systems, springs, shocks and the like that are manufactured by Bilstein, KONI, Tokico and Eibach will provide the traction you need by making sure that the amount of contact between your tires and the road is maximized. This will give you a much more secure driving experience in any type of weather.
Better Stopping Capabilities
Another extremely common problem with regards to driving in the winter months is that people sometimes need to be able to stop relatively quickly or at least in a predictable manner and yet they are unable to do so. While most people don't realize it, suspension systems have a strong impact on a vehicle's typical driving distance. Products from Bilstein, KONI, Eibach and Tokico are all engineered such that people who use them on their vehicles are able to stop at consistently shorter intervals than those who have suspensions that are worn out.
Overall, driving in the winter months is difficult for many different reasons. People need to make use of every advantage that's out there, and installing products from Bilstein, Eibach, KONI or Tokico – depending on the particulars of your vehicle – will make all the different when it comes to your safety and comfort over the next several months and years. If you're ready to put this concern in the past, contact the team of automotive professionals at Shox.com today to learn more about what could be the best fit for your needs.