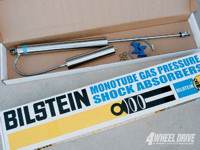 As we move into the winter months, we are all going to have to deal with driving conditions that are more difficult than those that we tend to face during the summer. People who live in the north and in the east will be dealing with snow and ice, and people almost everywhere else will be dealing with the nearly constant threat of rain. Any of these inclement conditions can and will lead to extremely slippery roads, and many people do not realize the importance of shocks and springs with regards to these conditions.
Below you will find a brief overview of how high-quality shocks and springs that are manufactured by reputable companies such as Bilstein, KONI, Tokico and Eibach can make all the difference for anyone who is driving in wet and slippery conditions. You will also find information regarding how anyone who is ready to minimize the risks associated with driving in wet conditions by adding products from Bilstein, KONI, Tokico or Eibach can contact a team of professionals to learn more about how to get this done.
How Shocks and Springs Work
Shocks and springs are generally designed to reduce the bouncing and the wear and tear on a vehicle by making sure that the tires are as in constant contact with the pavement below as possible. Products from Bilstein, KONI, Tokico and Eibach have long been known to maximize this amount of contact, and it's critically important to not only provide a more comfortable ride for drivers and passengers, but also to allow the driver more control of a vehicle. In addition, the more contact tires have with the roads below, the better they'll be able to handle corners and the faster they'll be able to come to a stop when needed.
Shocks and Springs in Wet and Slippery Conditions
Anyone who has driven on roads that are wet and slippery understands that traction is the most important aspect of arriving at destinations safely. Tires are made with levels of traction that should allow for safe travel, but that traction is useless when the tires are constantly bouncing up and down along the roads. As such, people who do not use high-quality products such as those made by Bilstein, KONI, Tokico or Eibach could face a more challenging set of driving conditions than those who make this wise decision.
If you are concerned about your vehicle's ability to handle properly during the upcoming winter months, you may be considering several improvements. One that's often overlooked involves the shocks and the springs. If you're ready to see how products from Bilstein, KONI, Tokico and Eibach can help to improve your vehicle's performance and make driving during these winter months easier and safer, all you need to do is contact the team of professionals at Shox.com today to learn more about the proper fit for what you drive.