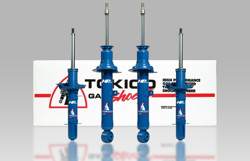 When the New Year rolls around, people tend to make resolutions and plans for that coming year that relate to almost every different aspect of life. Most of us have lives where our vehicles are extremely important to us for many reasons, but for some reason relatively few people take the time to plan for those vehicles so that their effectiveness, performance and dependability can be maximized. Hopefully 2013 will involve many automobile owners doing what's necessary to make sure that their cars, trucks and SUV's run as smoothly as possible.
One way to make sure that this happens is to plan for making use of top-notch products that are provided by manufacturers such as Bilstein, Tokico, KONI and Eibach. Below you will find a brief overview of examples of steps to take to plan your automotive year for 2013 so that the chances for unforeseen circumstances arising are minimized. If you're ready to make use of products provided by these manufacturers, seek the help of experienced automotive parts providers as soon as possible.
Look Ahead to Your Driving Schedule
Most people have a pretty good feel as to how much driving they do in a given year. These driving routines could involve commutes to and from work, driving to vacation destinations and of course the daily or weekly errands that need to be run. All of this driving takes its toll on the suspensions, shocks and springs of vehicles, and using products provided by Bilstein , Tokico, KONI and Eibach will make all of this planning that much easier.
Evaluate Your Vehicle's Needs
Vehicles in many ways are like people – they tend to age over time, and as they do they will encounter certain needs that need to be met in order for those vehicles to continue to perform. One of the more overlooked needs for vehicles that have spent an appreciable amount of time on the roads is shocks, suspensions and springs. Bilstein, KONI, Eibach and Tokico all provide products that will more than meet the needs of any car, truck or SUV.
Be Proactive
There are certain aspects of owning any vehicle that will involve upgrades, repairs and replacements. Shocks, struts, springs and suspension systems are all included in that list. The worst expenses that an automobile owner can encounter will involve those that follow repairs after something breaks down. If you already realize that your vehicle will need work in this regard in the coming year, see what you can do with Bilstein, Eibach, KONI and Tokico parts right now so that extra expenses can be avoided.
If you are ready to make sure that you minimize the problems that you could encounter with your vehicle during 2013, all you need to do with regards to your shocks, springs and suspension systems is to seek the help of automotive parts professionals who can help you find the perfect fit for your vehicle. Contact the team at Shox.com today to get this planning completed.